As much as Stewart "
Lenslinger
" Pittman and I fancy ourselves pretty good bloggers there is another, more hyperactive, Television Photojournalist who is the epitome of TV Photog Bloggin' and short of sounding gay and saying he's our hero, JL Watkins is a truly unique individual who we've been itchin' to meet.
I've been reading his
Little Lost Robot
blog since before he made the cross country move from Seattle to Greenville, SC last year but even just a few quick hours down the road, we haven't had a story assignment or reason to cross his path until we flew across the country to NAB.
JL Watkins, aka, Little Lost Robot, was at NAB blogging for the
Lost Remote
website as he did last year when we closely monitored his progress and pledged to do the same in 2006.
It was late in the day Monday when we finally crossed paths with JL when we were exiting the Las Vegas Convention Center after we were done on the floor. It seemed that we all (visually anyhow) instantly knew one another at first site and began our lively conversations. Even with this west coast transplant slightly surprised by our medium to heavy North Carolina dialects, we talked about our respective days of Gadget watching like old friends.
A bit later we met up with JL again at the
Lost Remote party
at the Hilton and shared
stories over Gin and Tonics before moving on to the
B-Roll.net party
at Gordon Biersch where the beer brewed in-house flowed extra thick.
As we all grew more imbibed by our alcohol consumption the stories got funnier, or maybe I just laugh too much when the juice is flowing. After the B-Roll party JL joined Stewart, Brad Ingram, me and other's from the B-roll Crew for a kick ass ride in a stretch limo, althought in the photo he lookin' a little wierded out!(more
on that later)
After the limo it was time for a bit of table play in the Sahara to go along with more Gin and Tonic.(and I only lost $40 there).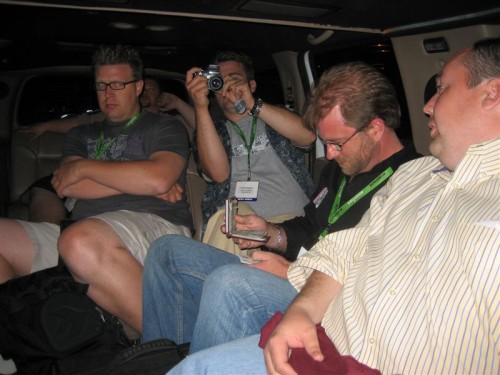 I can tell you now with great certaintly...I found out that Little Lost Robot isn't just an excellent blogger with great story telling skills, he's one hell of a funny guy and an even nicer guy!
So don't forget to visit
Little Lost Robot
for his take on NAB 2006. From what I hear his stuff is gonna be good. Something about Green Screens!